Today I am starting a new subject in SavvyArt, where I'm going to be comparing the distinctive styles of different artists by drawing similar to their published works and talk about the different methods you can see being used by that artist. So, for my first one, I'm going to start with a fun one, cartoonist Bill Watterson's Calvin and Hobbes.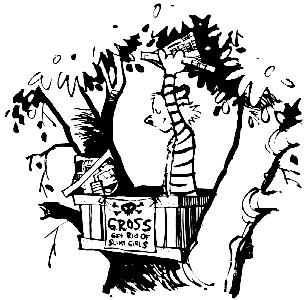 Watterson, Bill. "Calvin and Hobbes." N.p.: n.p., n.d. Print.
Calvin and Hobbes has always been a favorite in my house to rouse up the giggles of an adventurous boy with his stuffed tiger for a friend. But now I have come to view the comic from a more artistic point of view, and from that view, comes the idea to learn to draw the characters and scenes from these comics. So I have taken one of the illustrations from the book and have drawn it, and adding my own finishing touch.
For this painting I did have to use a bit of an artist's license in order to fit the entire square illustration onto a rectangular page, making Calvin and Hobbes a little more equal in height, and adding a couple more leaves in the background and the title. It does take some time to draw the characters in the immediately recognizable form as the original artist can do, but don't get discouraged! The way it is specifically drawn is all part of the expression of the artist.
Now, for learning from the artist, Bill Watterson, in this case there are a few things you can take notice of from learning to draw in his style. His style, being a cartoonist, is somewhat impressionistic, especially in the textures he implies. (notice the round curves around the right branches and the black leafy background on the tree) In drawing the characters you find that their proportions are surprisingly specific if you want to get them right. (Notice how tall Hobbes is in the original illustration in comparison to Calvin) bringing out how specific Watterson gets in drawing his characters. As his work was made primarily for the funnies section of the Sunday paper, this is little shading involved, black and white with little in between, giving it a simplistic look. That is, until you try to draw it. Hats of to Bill for the dedication of keeping the funnies coming for ten solid years.
I hope you enjoyed this side to side comparison of this artist, and if you have any suggestions on any other artists I should do next please leave them in the comments below.